You thought reaching for the top shelf of the cabinet was difficult before your shoulder surgery, but there's nothing to prepare you for the frustration and pain you may experience immediately afterward. Whether it's a shoulder replacement, arthroscopic shoulder surgery, reverse total shoulder replacement, or some other shoulder surgery, recovery can impact every part of your everyday routine.
Read our blog today for 10 items to make your recovery a smoother, easier process for everyone involved (but especially you). Our Columbus shoulder specialist will perform an excellent shoulder replacement surgery for you, but Dr. Thomas Kovack is also dedicated to your recovery afterward. Follow the tips in today's blog, and be sure to contact the Columbus Shoulder Doc when you're ready to meet with our shoulder specialist!
The Kitchen: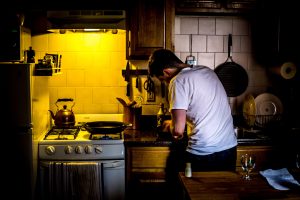 Recovering from a TSR surgery will impact everything you can think of — including what you eat and how you prepare your food.
1. Frozen, Packaged Food
If you live with someone who can cook for you, then that's excellent! It's wise to have frozen meals on hand though, whether they're from the store or you prepared them before your shoulder surgery. You can pop these in the microwave or oven and have an easy meal in minutes — without causing stress to your recovering shoulder.
2. Laxatives, High-Fiber Foods
Many people experience constipation after surgery, which may be due to anesthesia or pain medication. To combat this, buy foods that are rich in fiber or have some laxatives nearby.
3. Your Favorite Foods
We're not saying to indulge in ice cream every night, but there's nothing wrong with picking up some of your favorite treats to help you feel better.
The Bathroom:
Your showers may not be as relaxing as they used to be, but these four tools can help.
4. Detachable Shower Head
You'll need to keep your incision dry, and a detachable shower head will give you greater control over where water does — and doesn't — go.
5. Shower Chair
You'll enjoy being able to sit and rest while showering. This is useful because not only are your muscles sore, but you may also be tired from medications.
6. Pump Soap
You'd be surprised how much work showering with one arm can take — a pump container can help.
7. Waterproof Bandages
Make sure to have plenty of waterproof bandages or trash bags and athletic tape on hand to cover your incision when showering.
Around The House:
You'll be tired and on medicine — make your life easier after your total shoulder replacement by having these items around the house.
8. Easy-To-Wear Clothing
Wear shirts that button or zip instead of going over your head, and make sure they're easily accessible.
9. Pillows
Having extra pillows will allow you to prop up your injured arm when you're relaxing and prevent stress on your shoulder.
10. Container With Medicine And Instructions
Keep all of your prescriptions in one convenient place — preferably in a box that can travel around the house with you. That way, you'll have everything on hand so you can take medicine when you need to.
Are you still researching shoulder surgery options? Contact the Columbus Shoulder Doc today and get ready for an improved shoulder. Dr. Thomas Kovack is a Top Rated® Local shoulder specialist in the area, and he can help you feel confident in your shoulder surgery.